A Message from the President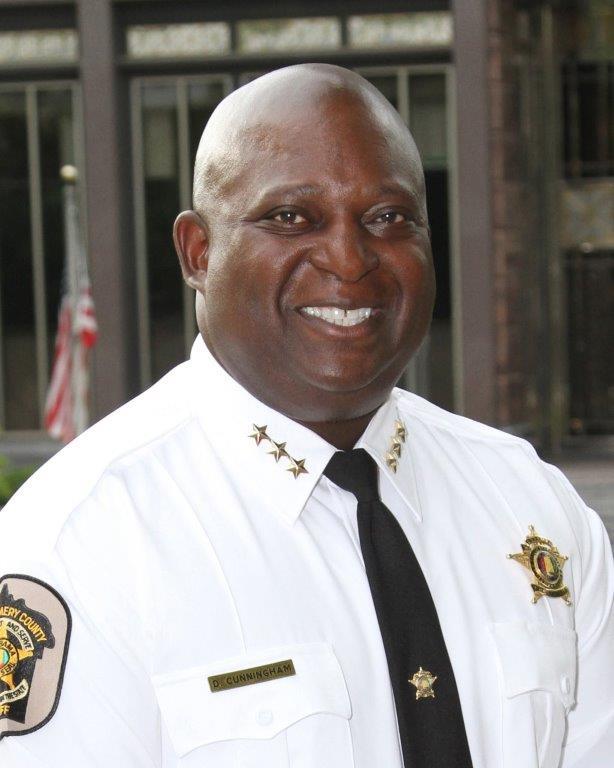 Sheriff Derrick Cunningham
President - 2020
Montgomery County Sheriff Derrick Cunningham was inducted as President of the Alabama Sheriffs Association during the 2020 Winter Conference held January 19-22, 2020, at the Renaissance Hotel & Spa in Montgomery, Alabama.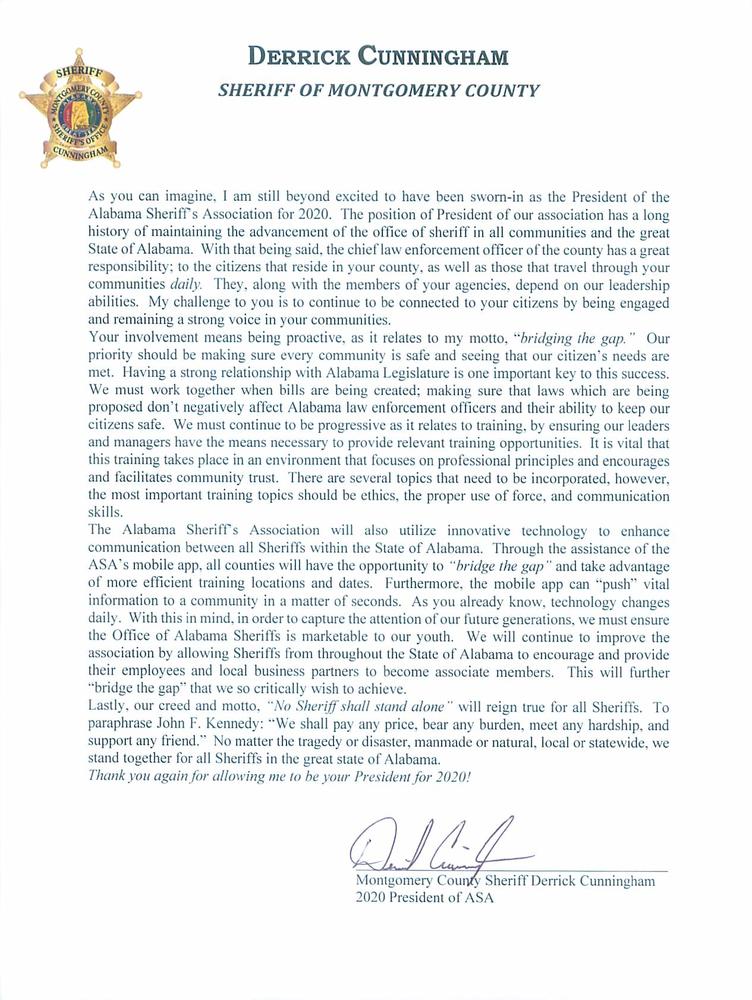 As you can imagine, I am still beyond excited to have been sworn-in as the President of the Alabama Sheriffs Association for 2020. The position of President of our association has a long history of maintaining the advancement of the office of sheriff in all communities and the great State of Alabama. With that being said, the chief law enforcement officer of the county has a great responsibility; to the citizens that reside in your county, as well as those that travel through your communities daily. They, along with the members of your agencies, depend on our leadership abilities. My challenge to you is to continue to be connected to your citizens by being engaged and remaining a strong voice in your communities.
Your involvement means being proactive, as it relates to my motto, "bridging the gap." Our priority should be making sure every community is safe and seeing that our citizen's needs are met. Having a strong relationship with Alabama Legislature is one important key to this success. We must work together when bills are being created; making sure that laws which are being proposed don't negatively affect Alabama law enforcement officers and their ability to keep our citizens safe. We must continue to be progressive as it relates to training, by ensuring our leaders and managers have the means necessary to provide relevant training opportunities. It is vital that this training takes place in an environment that focuses on professional principles and encourages and facilitates community trust. There are several topics that need to be incorporated, however, the most important training topics should be ethics, the proper use of force, and communication skills.
The Alabama Sheriff's Association will also utilize innovative technology to enhance communication between all Sheriffs within the State of Alabama. Through the assistance of the ASA's mobile app, all counties will have the opportunity to "bridge the gap" and take advantage of more efficient training locations and dates. Furthermore, the mobile app can "push" vital information to a community in a matter of seconds. As you already know, technology changes daily. With this in mind, in order to capture the attention of our future generations, we must ensure the Office of Alabama Sheriffs is marketable to our youth. We will continue to improve the association by allowing Sheriffs from throughout the State of Alabama to encourage and provide their employees and local business partners to become associate members. This will further "bridge the gap" that we so critically wish to achieve.
Last, our creed and motto, "No Sheriff shall stand alone" will reign true for all Sheriffs. To paraphrase John F. Kennedy: "We shall pay any price, bear any burden, meet any hardship, and support any friend." No matter the tragedy or disaster, manmade or natural, local or statewide, we stand together for all Sheriffs in the great state of Alabama.
Thank you again for allowing me to be your President for 2020!